Filter by Category
Socially Conscious
Views on the News
with Paul Mullin

Nov 4, 2022 at 10 am
Online Discussion Group
This is a discussion group held on the first and third Fridays of each month covering local, national, and world news. The discussion provides an opportunity to share your observations and opinions on the news and to learn from other participants. Articles of interest are distributed among the group by email in the week prior to each meeting, and topics to discuss are selected by the group at the beginning of each meeting.
Paul Mullin is facilitator for this discussion group.
November 4 & 18
December 2 & 16
January 6 & 20
February 3 & 17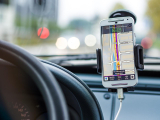 Should The Next Car You Buy Be All Electric?
with Paul Mullin

Dec 6, 2022 at 10 am
Online Class
For most of our driving lives vehicles had motors powered by gasoline or diesel fuel. In an effort to reduce carbon emissions and their detrimental effect on the climate, there has been a push to transition from these carbon fuels to electric power. First came hybrid, then plug-in hybrid, and more recently all electric vehicles. Although only 5% of new cars now being purchased are electric, it is anticipated that most cars in the future will be electric. Paul will review factors to consider when deciding whether to go all electric, and his experience with purchasing, owning, and operating an electric powered vehicle.
Paul has been an active member of Gold LEAF for a number of years, and the moderator of the Views on the News discussion group.
Will run
More Hidden Figures: Women in Science
with Dennis O'Neil

Jan 26, 2023 at 10 am

, runs for 3 weeks
In-Person Class with Online Option
Remember Hidden Figures, the very popular film about female math whizzes who helped get us into space?  This class follows a similar theme: that of more-or-less forgotten women who played critical roles in discovery across a number of scientific fields. Through the use of videos and biographical research, we will collectively bring a list of women into clear view and thereby honor their works and discoveries. 
To accomplish this goal, we will employ a study group format, used by many senior colleges around the country, asking participants to search for a bit more information on just one female scientist of their choice (list of choices to be provided).
In the following week, participants will share their research, using videos, biographical information, and story telling.  The class will bring these hidden figures to life and give them long-deserved recognition for some amazing work.
This class will have 3 sessions:
January 26
February 2 & 9
Eileen Kreutz has been very active in Gold LEAF for many years. She is currently a member of the Board. She is doing this class as requested in a prior course.
Dennis O'Neil has been a member of Gold LEAF since moving here 15 years ago. He likes the organization for its ambience, camaraderie, and colorful personalities. 
Eileen and Dennis will co-host this class.
Will run