Filter by Category
Socially Conscious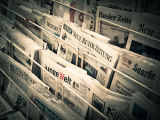 Views on the News
with Paul Mullin

Mar 3, 2023 at 10 am
Online 
This is a discussion group held on the first and third Fridays of each month covering local, national, and world news. The discussion provides an opportunity to share your observations and opinions on the news and to learn from other participants. Articles of interest are distributed among the group by email in the week prior to each meeting, and topics to discuss are selected by the group at the beginning of each meeting.
Paul Mullin is the facilitator for this discussion group.
March 3 & 17
April 7 & 21
May 5 & 19
June 2 & 16 
Looking At the Environment From an Indigenous Peoples' Perspective
with Four Arrows (aka: Don Trent Jacobs)

Apr 5, 2023 at 9:30 am
Online
The foundational understanding of oneness with all via 40 interrelated precepts was practiced by humans for most of our time on earth. That has largely been overshadowed by a worldview that has separated us from ways of being that were proven sustainable. This workshop offers a "dehypnotizing technology" for rebalancing the dominant and the Indigenous worldview with the goal of ultimately rebalancing life systems on Earth.
Wednesday, April 5, 2023.  9:30 am - 10:30 am
Former director of Education at Oglala Lakota College, a Lakota Pipe Carrier, and currently a professor in Educational Leadership for Change at Fielding Graduate University, Four Arrows was selected by AERO as one of 27 visionaries in education. Recipient of the Martin Springer Institute's Moral Courage Award for his activism and author of 23 books, including his most recent which was named one of the top 15 books by UC Berkeley's Great Good editors for being "thought-provoking, inspirational and practical" (Restoring the Kinship Worldview). His book,  Teaching Truly: A Curriculum to Indigenize Mainstream Education, was one of the top 20 progressive books of all time, along with authors John Dewey and Paul Freire, by the Chicago Wisdom Project. Four Arrows is also a world-class equestrian, horse whisperer, old-time piano player, and avid SUP surfer.
Will run
Efficiency Maine Residential Offerings
with Hope Kohtala

Apr 14, 2023 at 10 am
ONLINE
Please join us for an informative presentation exploring home energy savings with Efficiency Maine. They promote energy efficiency by offering rebates, financing, consumer tools, and an installer database to help Mainers lower the cost and environmental impacts of energy consumption. This presentation will provide an overview of Efficiency Maine's programs that support insulation, heat pumps, heat pump water heaters, electric vehicles, and appliances.
April 14, 2023  10:00-11:00 am
Hope Kohtala is a program assistant who is currently working on projects related to electric vehicles (EV) and low-income initiatives at Efficiency Maine. She attended the University of Maine, Orono for her bachelor's degree and recently completed her master's degree in Environmental Management at Bangor University in Northern Wales.
Will run