Filter by Category
Nature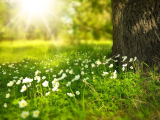 Maine Wild Flowers
with Paul Johnson

Feb 2, 2022 at 1 pm
During his tenure at the Maine Department of Inland Fisheries and Wildlife in the Moosehead Lake Region, Paul captured the diversity of plant and animal life in photographs. In this presentation Paul will share some of the highlights of common and not so common wildflowers found in Maine. This presentation should be a great way to segue from winter into spring.
In the event of snow the presentation will be moved to February 3rd.
Prior to retiring in 2005 Paul worked as a biologist for the Maine Department of Inland Fisheries and Wildlife in the Moosehead Lake region.
Will run
Black smokers, giant tube worms, and the origin of life
with John Slack

Feb 9, 2022 at 2 pm
This course will provide a summary of the history and current theories on the origin of life. The focus will be on modern black smoker vents on the seafloor, where very hot (up to 400 degrees C) metal- and sulfur-rich fluids escape upward from fractures in lava into the ocean. This process forms small to very large mineral deposits containing iron, copper, zinc, and in places lead, silver, and gold. Surrounding these hot fluid vents are myriad life forms, first discovered in 1978, that unlike all other life on Earth do not rely on photosynthesis (directly or indirectly), but instead on chemical compounds within the hot vent fluids. Ancient examples of these black smoker deposits are known in rocks up to 3.8 billion years old, suggesting that these strange ecosystems represent the locus of life's origin on our planet.
John F. Slack (Ph.D., Stanford University), worked as a research geologist with the U.S. Geological Survey from 1976 to 2016. An Emeritus Scientist with USGS, he is adjunct professor at Memorial University of Newfoundland. His field work has involved studies throughout the US (chiefly New England, the Rocky Mountains, and Alaska) and Canada as well as in much of Europe (mainly Norway), and in Australia, China, Japan, and southern Africa. He resides in Farmington with his wife, Peggy Yocom.
Will run