Filter by Category
Free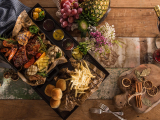 Dining Out
with Patricia Overall

Jul 6, 2023 at 11:30 am
In-person
Participants will meet about once a month for lunch at various restaurants in the Farmington area. Reservations will need to be firm one week prior to the date. Participants will order from the standard menu and receive separate checks.
First Thursday of the month at 11:30

July 6, August 3, September 7, October 5
Patricia Overall has been a member of Gold LEAF for three years.  She is a retired high school mathematics teacher, who later worked in hotel management and other occupations, including NACA, now NASA,  and working as a bartender. She has lived in 18 states and obviously enjoys eating out.
Will run
Views on the News - summer term
with Paul Mullin

Jul 7, 2023 at 10 am
Online 
This is a discussion group held on the first and third Fridays of each month covering local, national, and world news. The discussion provides an opportunity to share your observations and opinions on the news and to learn from other participants. Articles of interest are distributed among the group by email in the week prior to each meeting, and topics to discuss are selected by the group at the beginning of each meeting.
Paul Mullin is the facilitator for this discussion group.
July 7, 21
August 4, 18
September 1, 15
October 6 
Conversations, Coffee & Crafts
with Heidi Wilde

Jul 10, 2023 at 10 am
ONLINE
Please join us for a monthly Zoom get-together for coffee, conversation, and crafts.  Settle in with your favorite craft, bring your coffee, tea, or beverage, and visit with Gold LEAF friends.  Crafts are not essential, and guys are welcome! The goal is to get together and spend an hour or more talking with friends.
2nd Monday of the month, 10 a.m.
July 10, 2023
August 14, 2023
September 11, 2023
October 9, 2023
Will run