Filter by Category
Art
Basics of Perspective and Watercolor
with Katherine Richards

Apr 3, 2023 at 10 am
In-person
This four-session course will introduce students to the foundations of perspective drawing in order to create amazing watercolors.
A $10 lab fee for materials and supplies is paid in the first class.  The lab fee is waived if you bring your own watercolor paper, paint, brushes, etc.
Please provide a photo or picture of a favorite landscape with buildings.
Roberts Learning Ctr, UMF room 003 lower level.
Time: 10 am-12 pm
Monday, April 3
Thursday, April 13
Thursday, April 20
Thursday, April 27
Katherine Richards is a retired Art Education teacher who spent 35 years sharing her knowledge and love of many art techniques with students along with her belief that "...you learn twice as much from a mistake." She lives in Farmington but also enjoys time at Clearwater Lake.
Full Course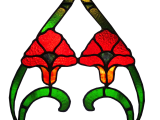 Working with Stained Glass
with Eileen Kreutz

Apr 18, 2023 at 10 am
Online 
In this virtual studio visit, several methods of stained glass construction will be demonstrated. The various steps for copper foil and lead came assembly will be shown with a close-up camera recording. Three-dimensional and stepping-stone construction will be explained as well as fusing. The class will be done by zoom from the studio and due to space restrictions, this will not be a hands-on class. The tools and types of glass will be described as well. By the end of the two hours, we will come to a deeper understanding of what's involved in the art of stained glass work.
April 18, 2023 10 a.m.
As a "retirement" career change, Eileen Kreutz took her construction skills to the studio work surface and began to do stained glass work in Industry. Studio time rarely feels like work, and so as they say, this work feels like play. Much of her remaining time over these retirement years has been with Gold LEAF Institute in one role or another. Lifelong learning ROCKS.
Will run
Book Arts 11: Japanese Stab Bindings
with Laurie MacWhinnie

May 10, 2023 at 10 am
In-person
Japanese stab binding is one of the oldest methods used to create a book. The bindings range from very basic to highly decorative patterns. We will use a needle-free method to "sew" books using three patterns: Basic, Hemp Leaf, and Tortoise. No previous book arts or sewing experience is required.
Wednesday, May 10, 2023, 10 am-12 pm
The instructor will provide materials and tools for the workshop.

Laurie MacWhinnie has taken book arts workshops through the University of Southern Maine and has been teaching book arts to others for more than 10 years.
Will run